Careem is the region's leading ride-hailing service with a mission of providing job opportunities. And to provide a reliable and trustworthy mode of transportation to it customers. After having a huge success in providing a transportation to its customers, careem was planning to start a new service for the ease of its customers since last year. Careem decided to launch its delivery service firstly in Pakistan and then planning to move towards USA and Middle East countries. Careem planned to launch the service in 4 major cities of Pakistan i.e. Lahore, Islamabad, Karachi, and Peshawar. They did all the precautionary measure to start the service.
Careem Finally to expand into technology ECOSYSTEM
And YES it is happening! Careem has now finally launched its delivery service in Pakistan. Now the customers can use this delivery service to literally track, send and receive any item. It could be food, medicine any important document or anything. Here is how careem has advertised its service.
The customers are require to enter the pickup and drop location of the item and the description of the item itself. Customers would only be required to pay for the price of the item and the fare calculated to the Career.
Initially, Careem was planning to spend $150 Million to launch its delivery service. But eventually, they decided to invest a total of $500 Million. Careem demanded its invested to raise the amount as they very optimistic about the success of this project. Careem's investors include German carmaker Daimler, China's largest ride-haling firm DiDi Chuxing, and Saudi Arabian billionaire Prince Alwaleed bin Talal's Kingdom.
Careem acquired a Karachi-based delivery service "Delivery Chacha". No news was found regarding at what cost the deal was settled. But Careem acquired the company. Careem also acquired a regional restaurant listing platform Round Menu (Dubai based company), to start its food delivery services.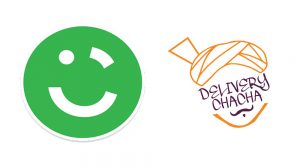 Careem is all ready to face its competitors in the potential market. It will compete against UberRush, Uber Eats, Deliveroo, Zomato, and Tabalat. Careem has specially trained Driver for their delivery service. these drivers would be sperate from its ride-hailing fleet. They want to make sure the customers are provided with the quality service.
Careem is optimist towards the success of this project around the globe especially in the middle east countries particularly during summers where the temperature can reach up to 50-degree Celsius. Let's hopes for the best the delivery what they said.